1/1
Warm water bag Hot water bag Warm hand charging mini cute bag with portable power supply
Quick Details
Payment:
PayPal,VISA,L/C,T/T
Supply Ability:
1000 piece per day
The little cute bag integrates
into your winter life
With a small cute bag to accompany you to have a warm time
APPOINTMENTTIME
Fast double-sided heating
Uniform heating on both sides, constant temperature heating at 55°C
Double sided heating
Hengwarmhands
HAND WARMER
HAND WARMER
Little cute bag
Original cartoon
hand warmer power bank
Smart sensor winter warm gift
Hold in hand All seasons like spring
INELIGENT INDUCTION
DOUBLE SIDES WARMT
TWO TEMPERATURE
NOBILE DONER BANK
Smart sensor mode hand holding heat
Itellgent Recognition
It will heat up when you hold it, and it will stop heating whenyou put it down,
which saves electricity.
Short press the swich (right ear) smart induction
mode to enter the Low temperature range
Short press the power buton (ightear
again to sitchto high temperature
Auto standby, save power and worry
Put down the hand warmer for about 1 minute
and then automatically stand by, and turn off ater about4 hours
Smart
Pick up
Put down
mode
fever
standby
Conventional hand warming mode
Long press the up switch for about 1, tum on the regular hand warming mode
to enter | low temperature mode, short press to switch to high temperature
mode, long press again for about 1.5 seconds to shut down
In this mode, the product keeps heating
at constaint temperature
Reminder: The two modes need to be entered
or switched in the shutdown state.
Small cute bag to carry with you
Easily put itinyour bag,
inyour hand, in your pocket
Little cute bag is warm
Small hand warmer, warm all your parts
Warm belly
Warm face
Warm waist
Warm shoulder
It is both a hand warmer and a power bank )
Emergency power supply, portable and convenient to travel
When charging,
the hand warming function is not available.
After disconnecting the charging connection, the hand warmer will enter the program to protect
for 20 seconds, during which the hand warming function is not avilable.a
Little cute bags are not only cute but also safe
The ittle cute bag warms your hands and puts your safety at heart
Ceramic heating sheet
Fire and high temperature
resistant materials
USB output port
Lithium polymer battery
Android charging port
SELECTION OF COL .OR
Mint Green
Shell pink
STYLE SELECTION
Regular
Smart
Conventiqnal hand
warming mode
Smart induction mode
Double-sided heating
Conventionalhand
warming mode
power Bank
Double-sided heating
power Bank
PRODUCT DETAILS
Roundfeel
The shape is round and has
no eoges and comers,
the hand fels more comfortable
Aluminum shellspray paint
feel paint
Give you a teathery siky feel
Dual-purpose USB socket
Mobile power + hand warmer
PRODUCT INFORMATION
Product name: Little cute bag
Material: PC+Aluminum Alloy+Silicone
Capacity: 3600mAh polymer lithium battery
Input: 5V=2A
| Output (mobile power): 5V=1A
Heating temperature: about 45-559C
Size: 65mmx90mmx30mm
Hand warming time: about 2-4 hours
Charging time: about 4-8 hours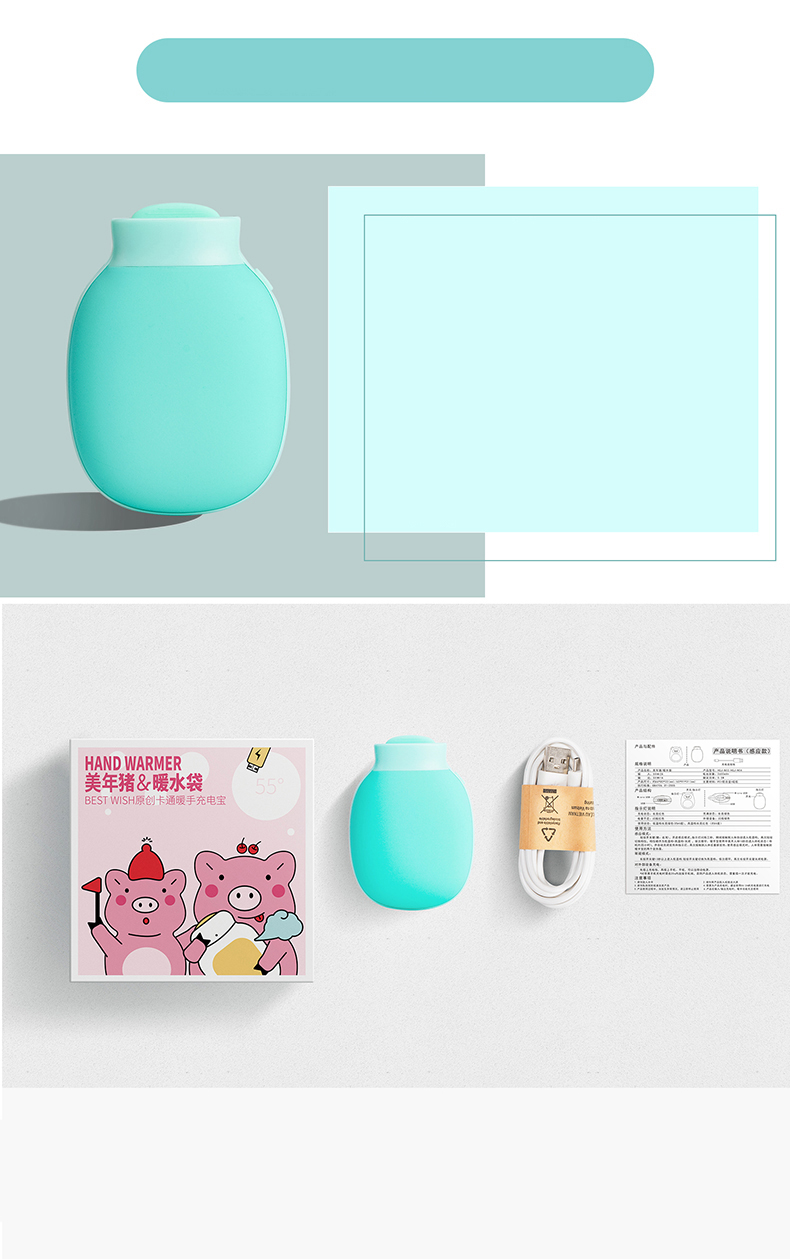 Notes:
The data mentioned in this page are all from factory experiments. Due to changes in the
objective environment and usage methods, the data may vary or have errors.