1/10
Portable Fan Adjustable Flexible Hose Rechargeable Usb Handheld Mini Fan
Quick Details
Payment:
PayPal,VISA,L/C,T/T
Supply Ability:
1000 piece per day
Quick Details
Voltage (V)

5

Material

plastic, ABS+PC+Silicone

Power Source

Electric

Color

Pink,Blue,Green

Speed

2 adjust speed

Power supply

USB+ Lithium Battery

Weight

82g

Power (W)

1.05

Type

Air Cooling Fan

Product name

Mini Changeable Fan

Battery capacity

500mAh Li-ion Battery

Working time

4 Hours

Product Size

265*45mm

Charging time

1.5 Hours
Portable Fan Adjustable Flexible Hose Rechargeable Usb Handheld Mini Fan
General Information
Mini Changeable Fan
XR-MM-F03
Can be wound can be put can be hung
Quiet and low noise
Long battery life
Retractable fan blades
Variety of MINI fans, a good partner for umbrellas
Although the umbrella can provide shade and shelter from the sun,
it is still sweaty when it is hot and windless.
When there is no time to hold the fan in one hand with the umbrella and the handbag,
It will relieve your worries.
Product Parameter
Product name: Mini Changeable Fan
ModelNo: XR-MM-F03
Welght: 81.5a.
Product dimensions: 45*27*264mm
Terture of maternal: ABSPCtsilicone
The rated voltage: DCSV
Rated power:1.05W
Charging current:=500mA
Battery capaily:500mA
Charging tme :About 1.5 hours
Standard of execution: Executive Standard: G84706.27-2008
|45mm*265mm|
Application
MINi Changeable Fan,

fans on the wrist;

When you want to enjoy the breeze while

playing with your mobile phone,

but don't want to hold a fan,

just wrap TA around your wrist;

MINi Changeable Fan,

a good partner for baby strollers;

It is convenient and practical to be placed in the car,

and it can take care of your baby for a summer and

effectively prevent the growth of facial rash,

ithing and crying;
Good companion for taking the bus to work;

In the sutry carriage, | want to fan the wind

but can't get my hands free. The mobile phone

and the brakes make my hands free;

What should I do? Just go around;

Quiet and low noise,

a good helper for learning and rest;

Shelves, desks, libraries, and study rooms can be placed

in silent use, which will not affect others,

and can also be refreshing and quiet

for reading and learning.
Product Features
Portable carry

The second change bag pendant, only 81.5 grams, is

light to wear, has no negative feeling,

is convenient to store and carry,

and can be used at any time, cool all the way.

Stall function

When the fan blade encounters resistance,

it will automatically stop rotating to prevent the

high-speed rotating blade from hurting the body.

If you need to use it again, just restart it.

Long battery life with lithium battery.
Product Details
Silicone material
Silicone is soft, skin-friendly and not iritating, not only increases friction, reduces noise, but also deforms at will.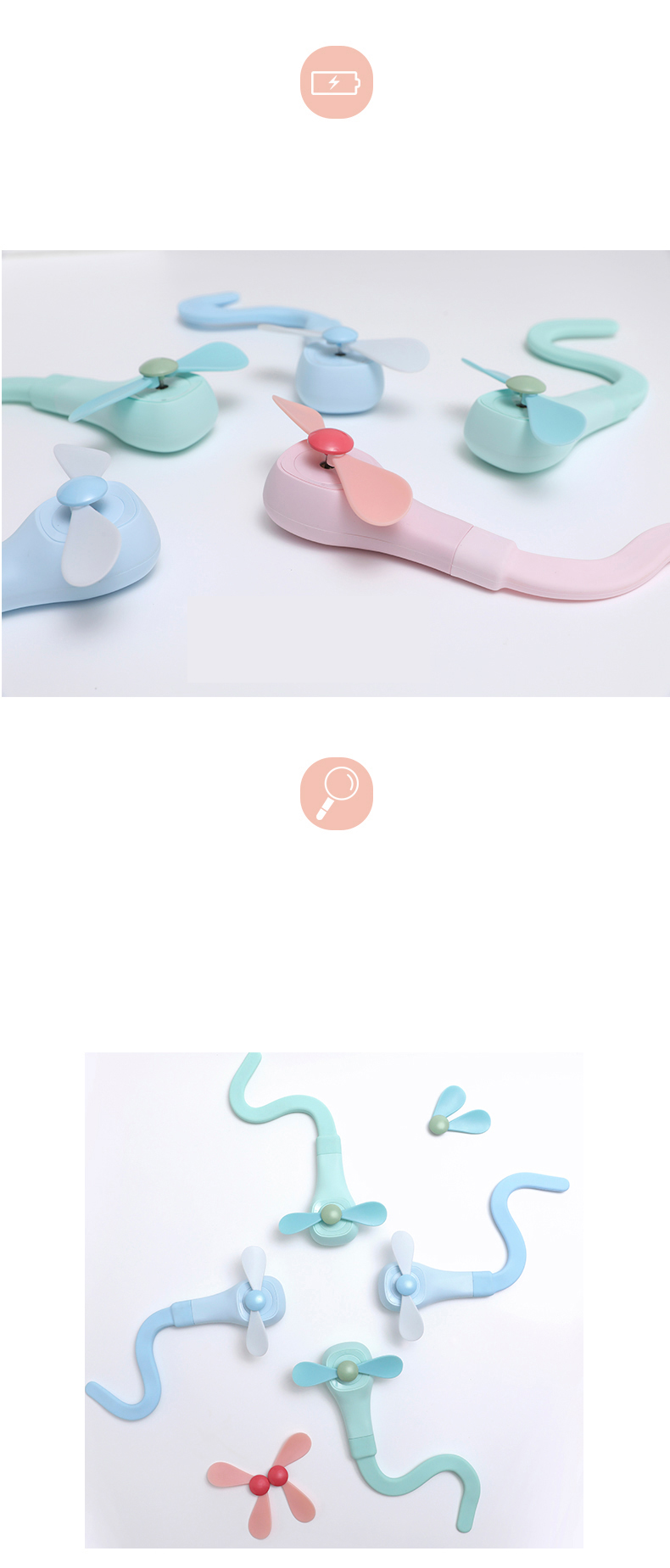 Product Advantage
Charging indicator

When charging with the MICRO data

cable, the charging status is clear at

a glance.

Compact and can be stored

Folding blades are easy to store and

do not take up space

DC jack

The charging DC socket is compatible

with the delivered MICRO USB cable

and mobile phone cable.

PE blade

Soft PE blade does not hurt your

hands

Ingenious design for multi-directional use

Can be hung (suitable for

backpacks, hangers, vertical

frames, tents, bunk beds, etc.)

Can be wound (suitable for

strollers, sun umbrellas,Bicycles,

buses, trellis, iron pipe beds, etc.)

Can be placed on the desktop

(suitable for office reading and durable use)
Scene graph
Product packaging

Pipai handheld fan.11 years in Wholesale Distribution deals.we have own factories and technical engineering team. All of our products can be through our customers within the strict quality inspection,offer bulk order in customlized.