1/7
Cross-border Moon Light Humidifier USB Charger Home Mini Air Purifier New Desktop Night Light
Quick Details
Payment:
PayPal,VISA,L/C,T/T
Supply Ability:
1000 piece per day
Humidifier Usb Charger Home Mini Air Purifier Night Light Wholesale Manufacturer
Product Desription
Aromatherapy machine
Lunar aromatherapy light
Aroma Diffuser / Night Light
Take a breath and relax
Product Features
Aromatherapy humldification

Sllent mist

Third gear night Tight

Prevent dry burning

Energy saving

Easy to use
Product Advantages👍
Keep quiet

Aromatherapy

Machine runs

quietly

Low decibel mute

Guarding by your side

Fine mist

Delicate cold fog

Non-wet table

Improved humidification effect

Quickly relieve dry air

0~30dB Aromatherapy machine runs quietly

30~40dB Air conditioning sound

40~60dB Whisper

60~80dB Air conditioning sound
I hope you sleep till dawn
Your Option
Two color option
A variety of textures available
Two colors available
Choose between color and white
Tricolor dimming
Choose from three- tone light
Soft night light
Warm sleep
With aromatherapy spray
Let the body after a busy day be released
WARM
YELLOW
WHITE
Power off protection
Automatic power off

without water

Once there is no water automatically cut off

Protect your safety and give you peace of mind

Energy saving

No water

power off
Two modes of day and night
Day and night two mode
Can be used as an aroma diffuser during theday
Night aromatherapy + night light mode
Quality Details
Quality comes from details

Comfortable enjoyment

without worry

Silicone mat

non-slip bottom

Long key life

USB charging

Realistic lunar

surface modeling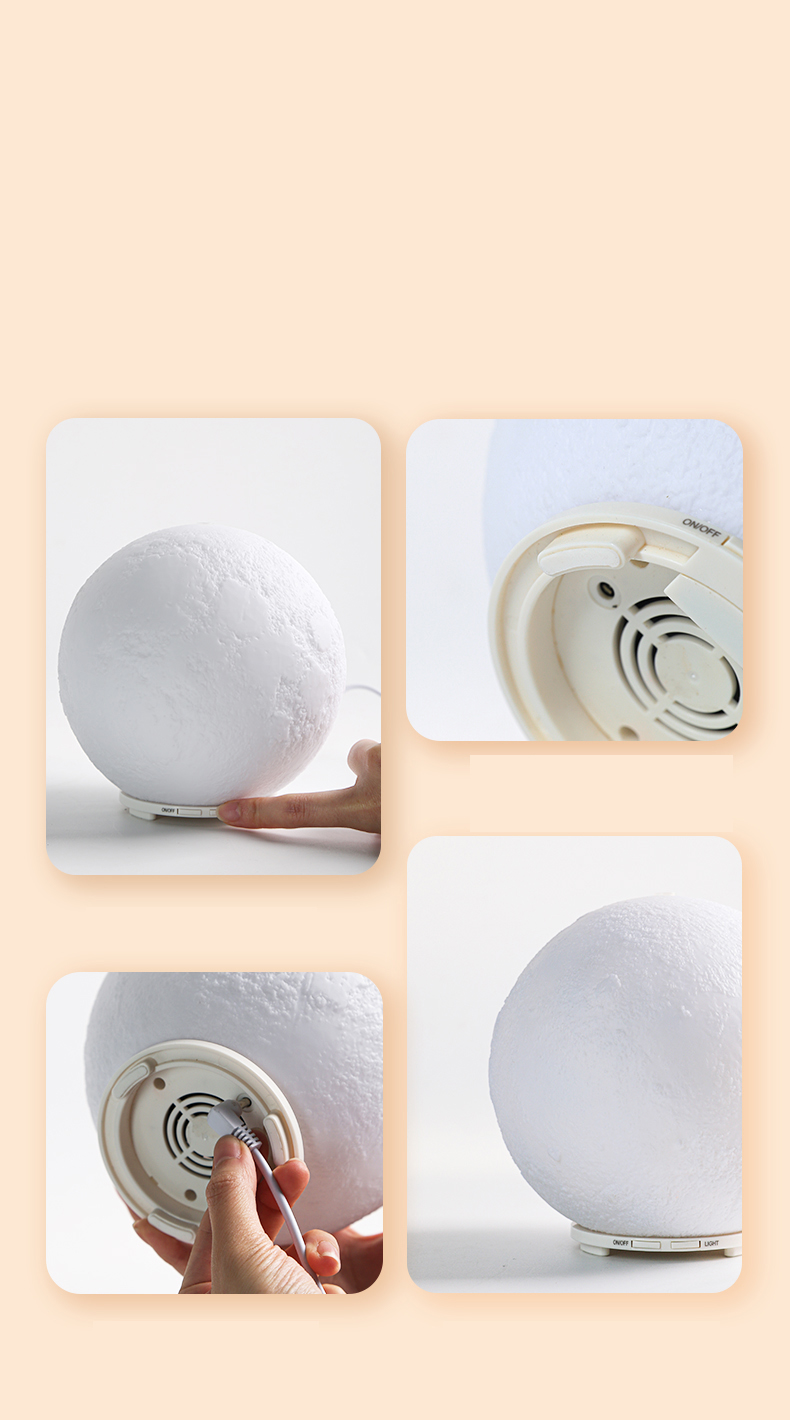 Instructions
①Take off The Moon Lights
②Ramove The Lid of The Water Tank
③At Add Proper Arnount of water(30~40ML)
④A Add Proper Amount Of Essential Oil 1-2 Drops Is Recommended
⑤Put The Lid On The Water Tank 6Put The Lid On The Water Tank
⑦Straighten The Produt,TumOn The Power, And Press The Start Button
WHITE COLOR
Remarks
The size is measured manually, the error is about 1CM, please understand!
Product packaging and maintenance.
Packing & Use
Packing
Aroma diffuser*1
Data line*1
Moon light*1
Exquisite
packaging box*1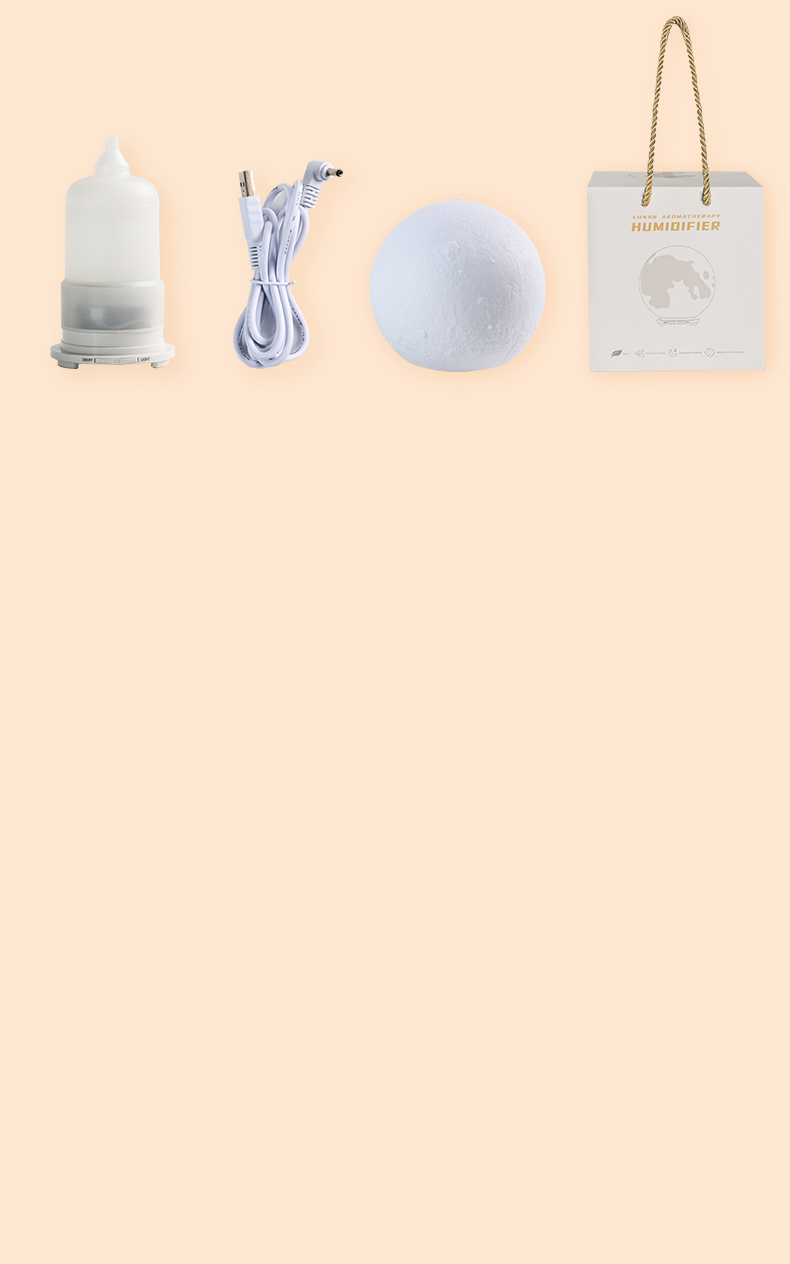 Use
Please invert the remaining water in the water tank before or after use, and keep the product in a dry and cool place.
If this product has been used for many times, please unplug the power plug and pour out the remaining water, and then wipe the inside of the machine with a clean cloth.
Please make sure to clean the machine after changing the essential oil to avoid mixing of different essential oils and affecting the original taste of essential oils.
Important, long-term continuous use may cause the machine to overheat and shorten its service life. Please unplug the power when the machine gets warm.
Pipai humidifier for air mini.11 years in Wholesale Distribution deals.we have own factories and technical engineering team. All of our products can be through our customers within the strict quality inspection,offer bulk order in customlized.