Projector Night light—GIve You a Vivid Dreamscape
June 24,2021
If you enjoy lying under the stars, you don't need to go to a planetarium or book a vacation to do it. This Galaxy Projector is a hot seller in our company. Projector Night Light is affordable and affordable. Light this little night light and you'll be bathed in dreamlike starlight.
Projector lights turn your room into a galaxy. The result is a vivid dream that will remind you of your most relaxing night under the stars.
Now this kind of starry projection lamp is popular, you can see the stars in the room! This starry sky projection lamp is very suitable for sending boyfriends and girlfriends or family members. It is very convenient to assemble it by yourself and add romantic atmosphere to your home decoration. In the dark night, such a starry sky lamp can illuminate your heart and make you feel romantic and warm.
Put the cover on this night light star projector and it becomes a very practical desk lamp. Take off the lid and turn it into a projector lamp, you can see the stars in the room. You can create a romantic scene, whether in the bedroom or living room. Compared to traditional projector, night light star projector has small size but has big function. No wonder so many people are fond of it.
The projector is controlled by USB. You can adjust the brightness, or control the movement of the stars. The device can also be connected to Bluetooth to play music, meaning you can listen to music as you fall asleep under the stars.
Projected Image
The clarity of the image illuminated by the projector night light on the wall depends on the power supply (a transformer is recommended), the ambient brightness (the darker the better), and the size of the space (the projection distance depends o the models. Used to create atmosphere and environment.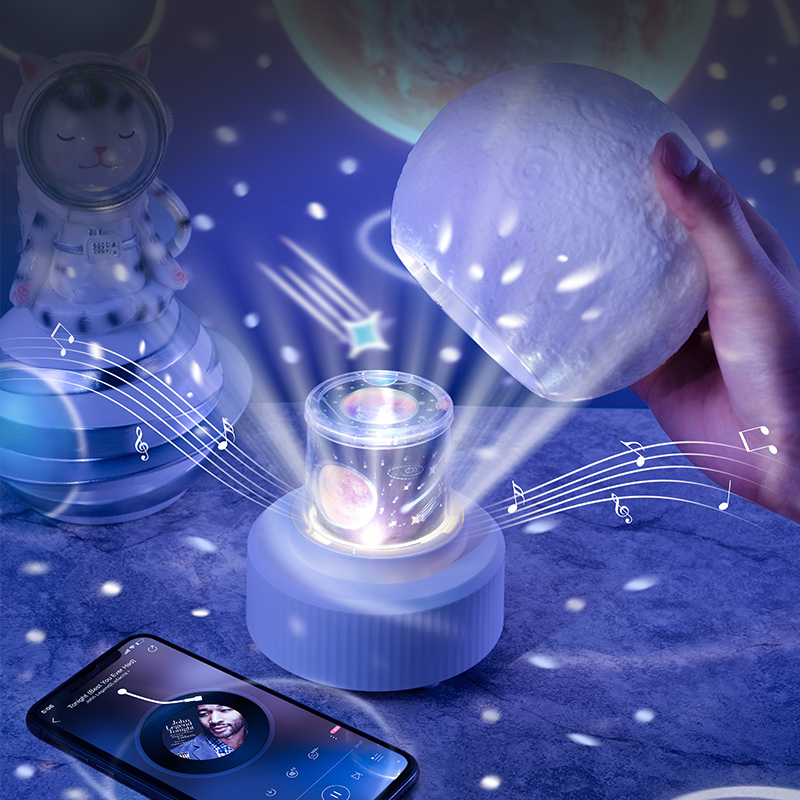 💫The light emitted by the starry projection lamp can be turned into a starry night sky on the wall and ceiling, which can make the bedroom become a very comfortable and quiet starry night sky, creating a wonderful and quiet environment, as well as a very romantic atmosphere.
The Principles of the Projector Night Light
In fact, the principles of the Projector Night Light is similar to that of the projector.
Small hole phase formation: magnify the microcosmic sky map prepared in advance inside the lamp
Light refraction: The star map in the night lamp is the projection lens, so that the reflection of the light is played out.
Position: The projection lenses inside the lamp are positioned in different positions and they can be adjusted to different modes to make the stars in different positions.
Projector Night Light wholesale
As a professional Projector Night Light manufacturer, Foshan Pipai Technology is dedicated to finding more products and deals that our customers enjoy. If you also like them and decide to purchase through our website. This is a great support for us.
Visit our website www.pipai168.com